BOARD GAMES
Help your students learn about our emergency services the fun way.
These educational board games teach about Police, Ambulance, Fire services and social skills in their community.
Board games for both pre-school and primary schools
These fun learning games will delight, amuse and enlighten children as they work together to complete various missions.
EMERGENCY SERVICES BOARD GAMES
These games involve both serious and funny scenarios. Children learn about all three emergency services, discuss situations and agree on good outcomes. These teaching visual aids develop a healthy respect for our emergency services. All games show New Zealand emergency vehicles to allow children to make real-life connections. Add a toy or telephone and bring in dramatic gameplay. Choose to play with or without discussion cards or race each other to various locations.
FIRE SERVICES BOARD GAMES
Learn about the fire safety and what the fire service does in our communities.
3 PACK EMERGENCY BOARD GAMES
Get all three emergency services games in one pack with three boards, die, game cards and instructions.
SOCIAL SKILLS & MANNERS BOARD GAMES
A great learning resource combined with MR Games typical silly fun. Contact us if you'd like us to design something special for you.
THE FRIENDSHIP BOARD GAMES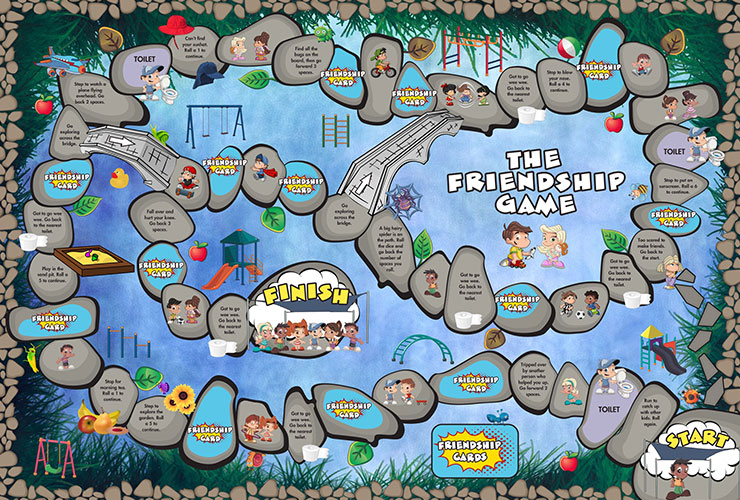 Learn about making new friends and behave around other children in our communities
TESTIMONIALS
What customers think about us?
Great games Mike. The bright, colourful set out of the large board and well explained and easy to follow rules make them fun for everyone. I especially liked the way they enable the children to cooperate and work together to solve problems. The games are designed so as many children can play as are interested, you are not limited to only a certain number of children playing. The questions on the cards allow for genuine discussion and learning to take place. These games fit in perfectly with all 5 strands of Te Whariki the early childhood curriculum. I'm sure however that Primary School aged children would get just as much fun, enjoyment and learn out of them.
Justine Roff
Early Childhood Teacher
I have used Mike's games while working with preschool children – children from 3 years 6 months of age, up to 5 years. Mike's games are easy to use, and they encourage turn taking and group participation because there doesn't have to be just one winner. Most of all, they are fun! The streaks of 'silly nonsense' keep children captivated as they play. As laughter effectively engages the learning areas of the brain; learning that teachers and adults tend to focus on – such as maths and literacy – happens seamlessly. In addition to this, the games all impart knowledge of the topic they concern – such as fire awareness, emergency services, and recycling. These games are durable, tough and great size for working with large groups.
Unn West
B. Ed. Early Years 0-8
These games sit beautifully within the principles of Te Whariki. They have been designed with a number of educational outcomes for children, enabling them to have fun as they learn about how to keep themselves and others safe. The large colourful game mats are ideal for working on a table or on the floor, allowing many children to be involved. I particularly like the literacy and numeracy elements and the opportunity for imaginative conversations between the children and Teacher. I believe these games would be a very useful tool to develop children's knowledge about emergency services.
Barbara Carson
Head Teacher, Surrey Park Early Learning Centre